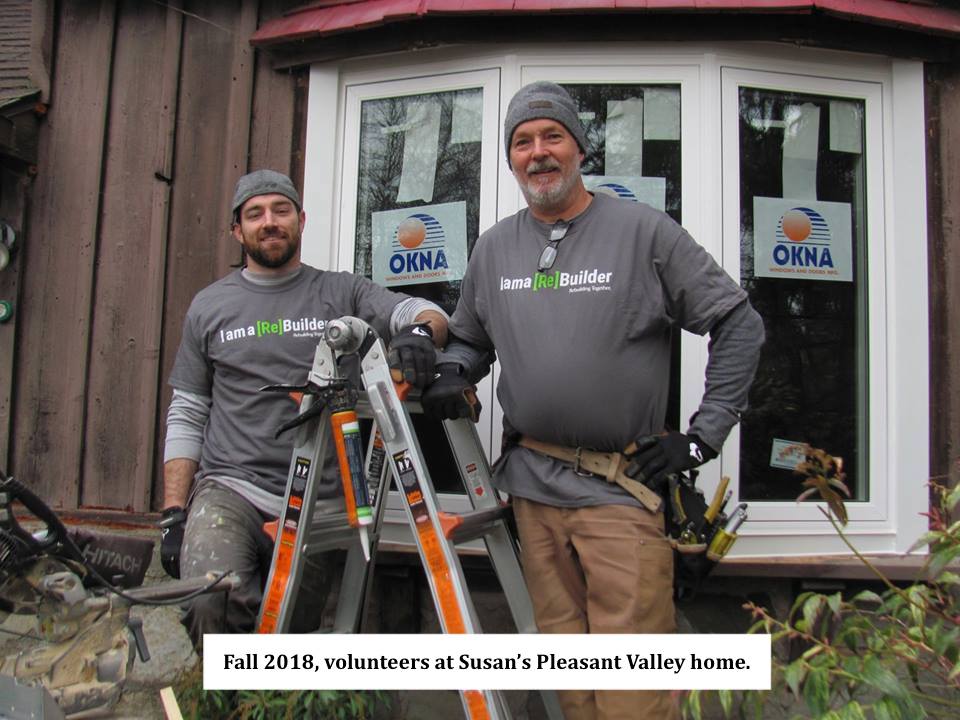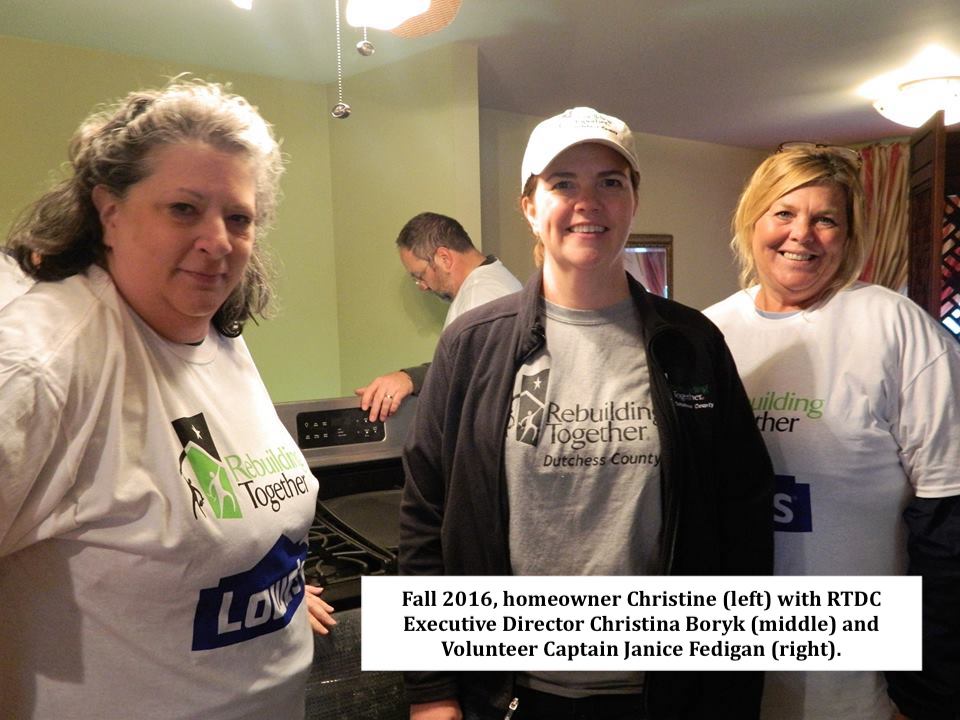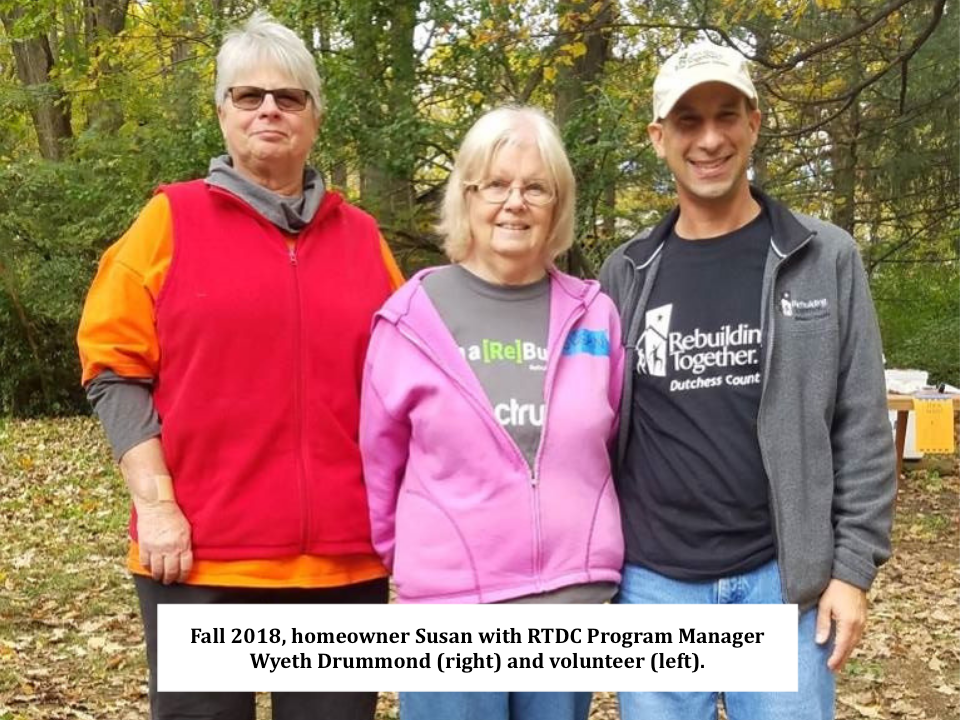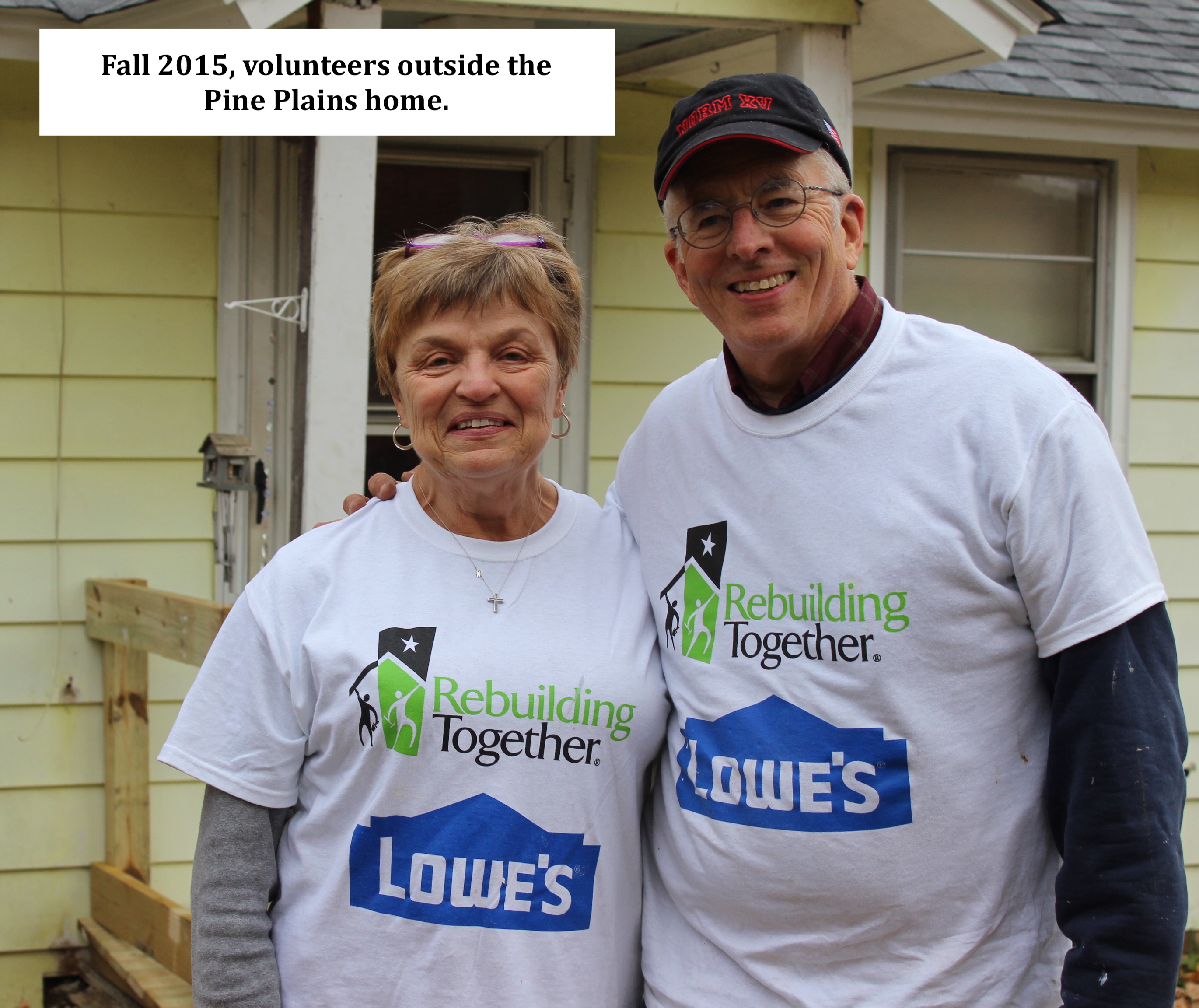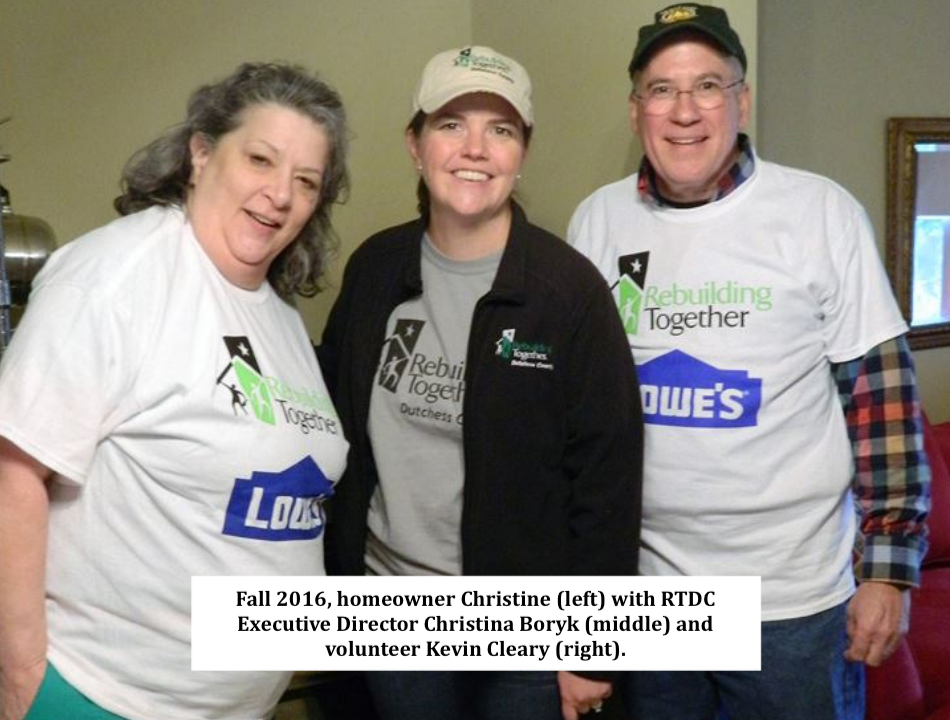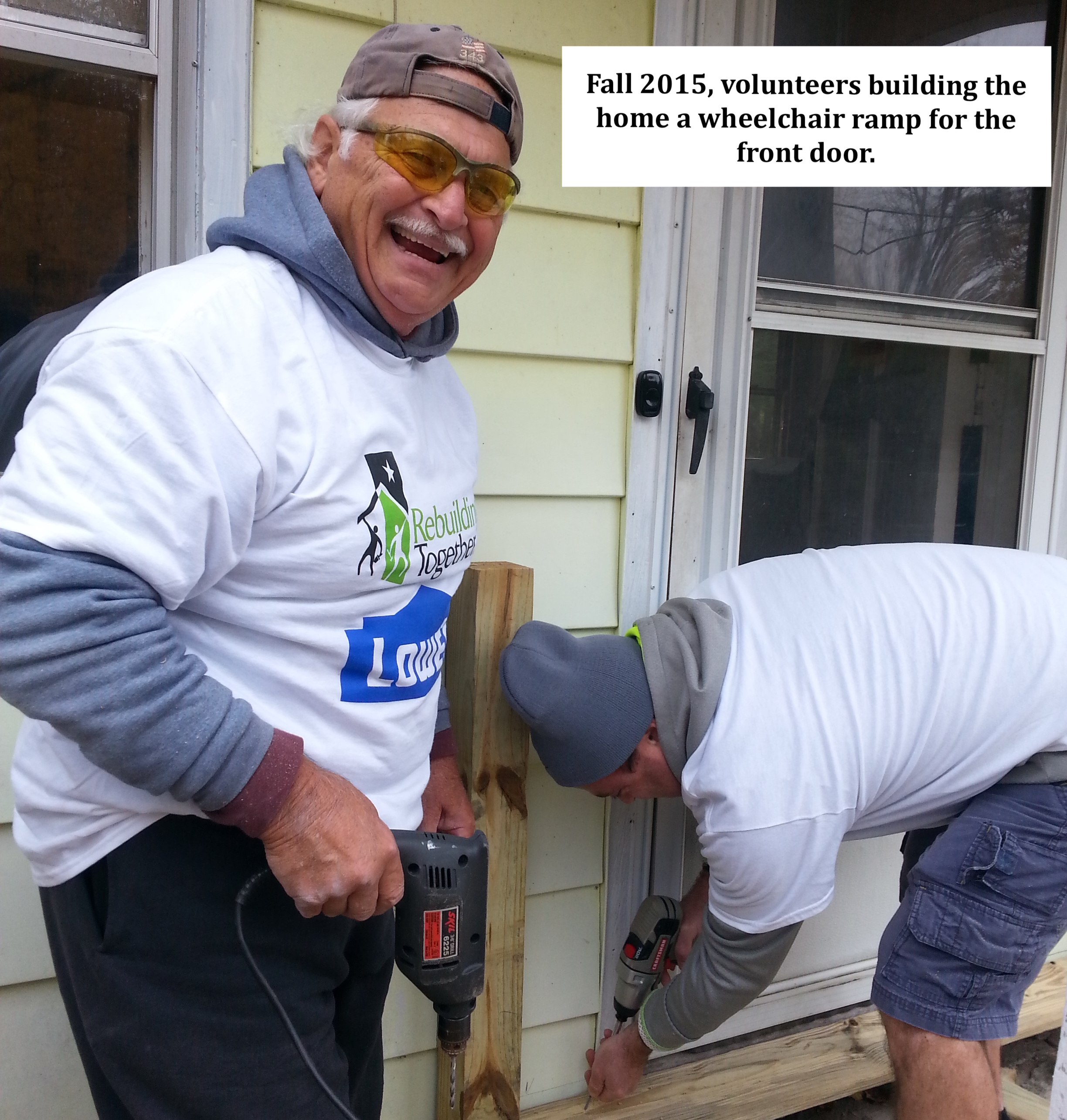 Eight Year Partnership with Lowe's
Rebuilding Together Dutchess County is able to help our Dutchess County neighbors thanks to our partners, who contribute both financial support and volunteers. Our 2018 Fall Rebuilding Day project marked the 8th year we have partnered with Lowe's, receiving a total of $58,000 through multiple grants. Their partnership has helped us to serve many wonderful neighbors in need.
"We are so very grateful for the continued support of Lowe's. Their substantial commitment to our community allows Rebuilding Together Dutchess County to assist homeowners with several health and safety concerns in their home," stated Christina Boryk, Executive Director at Rebuilding Together Dutchess County during the Lowe's project on Fall Rebuilding Day 2018. "Not only do these deferred maintenance items threaten our neighbor's well-being, they also threaten the fabric of the overall community. The work we are able to accomplish for our neighbors provides a safe and healthy home for years to come as well as makes the home more energy efficient, allowing the family to utilize their precious financial resources on essential life needs."
Below are some homeowner stories from the Dutchess County residents we were able to serve throughout the years thanks to Lowe's.
On Fall Rebuilding Day 2018, with Lowe's support we were able to help Susan, a 71-year-old Pleasant Valley resident, who has lived in her 1938 home for the past 24 years. With the help of volunteers and funding we were able to accomplish repairs such as: rebuild the chimney that was in grave disrepair, replace the basement and front entry stairs, install new energy efficient windows, and add necessary handrails.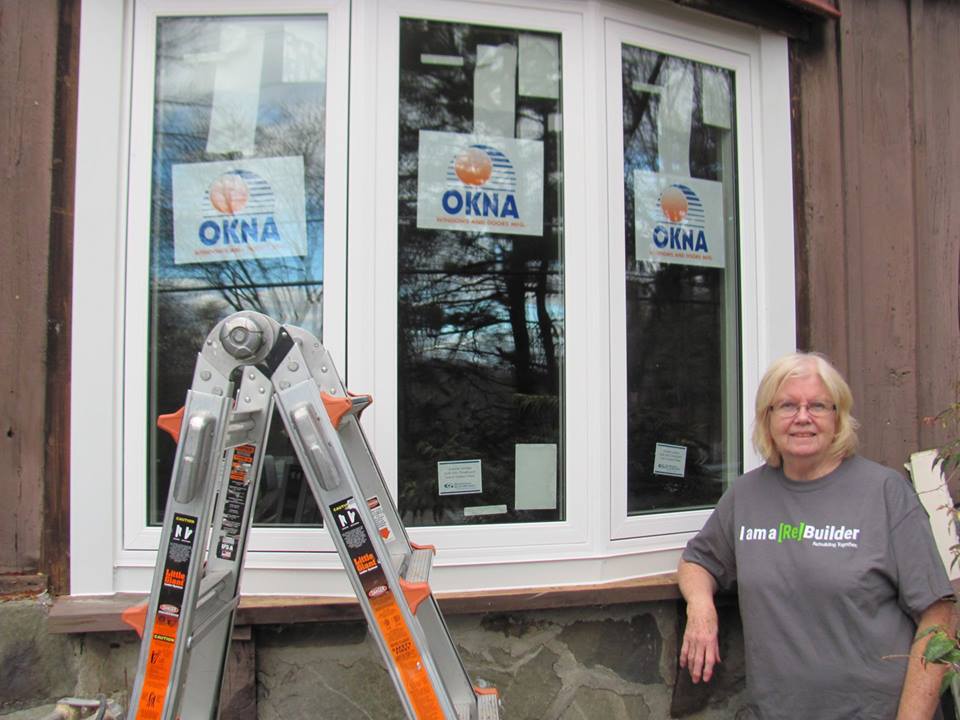 Pictured above: Susan with her new energy efficient windows.
On Fall Rebuilding Day 2016, we were able to serve Christine, a 63-year-old Wappingers Falls resident. The exterior of Christine's home was no longer properly sealed from the elements, making it less energy efficient and exposing it to damage caused by rain and moisture. Thanks to Lowe's funding, volunteers were able to provide those exterior repairs as well as repairs to the interior of her home, including covering a hole that was under her oven, to ensure her health and safety for many years to come.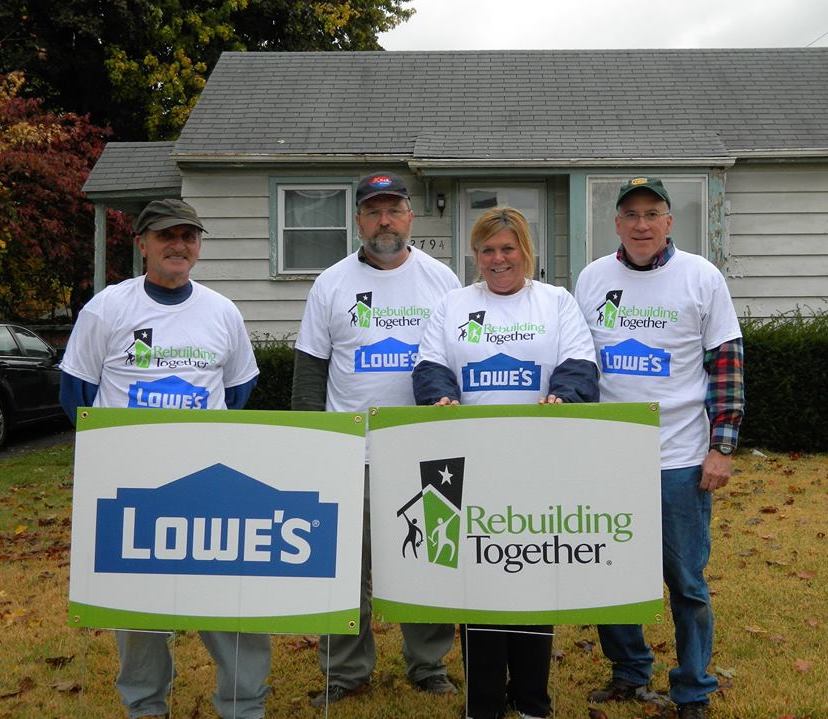 Pictured above: Volunteers outside of the Wappingers Falls home.
Pine Plains residents' Betty and Dennis were served on Fall Rebuilding Day 2015. The aging couple had a number of accessibility concerns as well as critical repairs that had gone unmet. Thanks to Lowe's funding and RTDC's volunteers, we were able to provide the Pine Plains home with critical repairs including: replacement of the roof, installation of new gutters, a new water pressure tank, various bathroom accessibility modifications, and the installation of handrails around the home. With the help of our partners and volunteers, Dennis will be able to live more independently and safely in his home. He is now able to get into the home with his wheelchair and use the bathroom with less assistance from his wife Betty. The repairs have alleviated tremendous safety concerns for both elderly homeowners, and they can now enjoy living in their home again.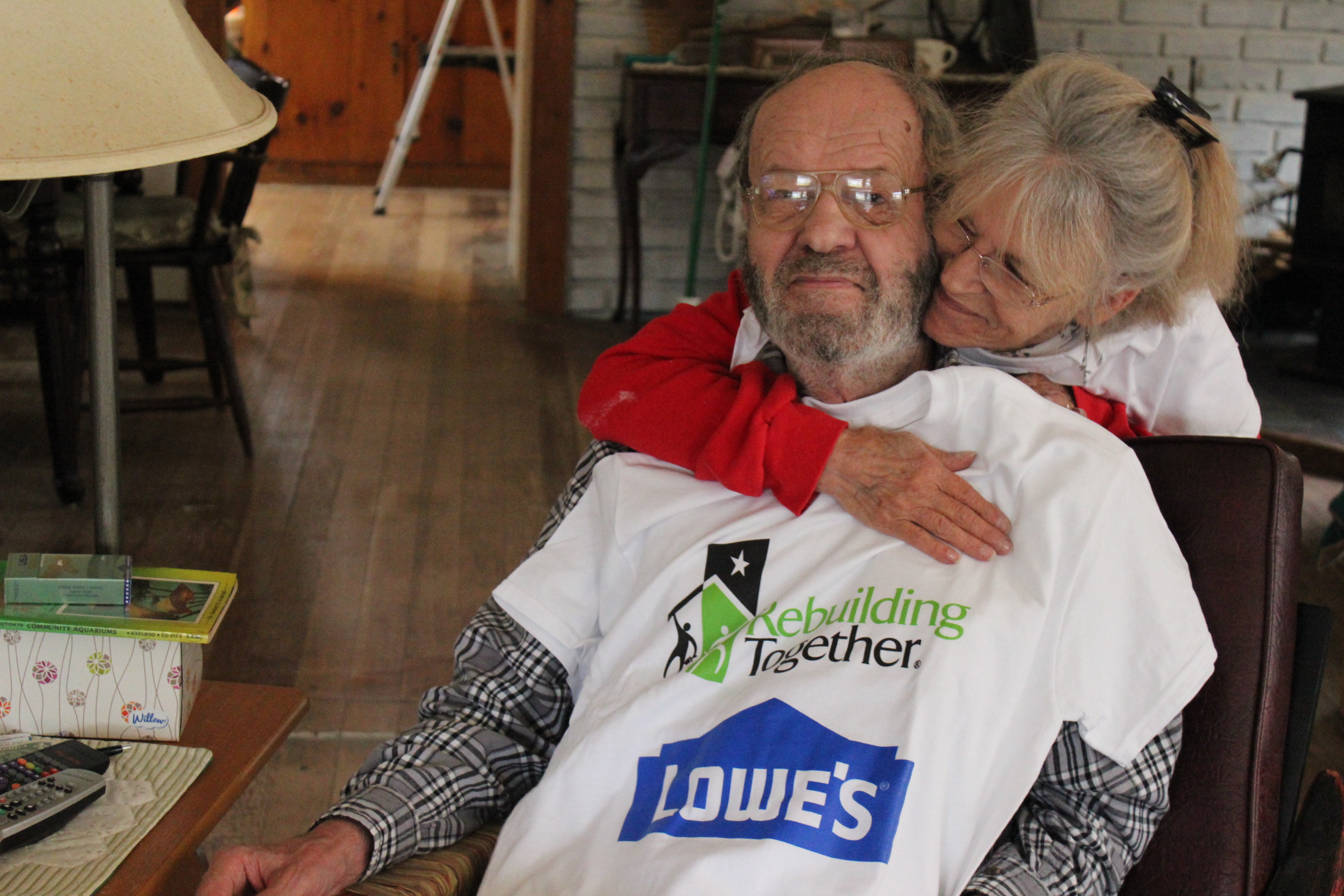 Pictured above: Homeowners Betty and Dennis.
Nationally, Rebuilding Together and Lowe's partnership began in 2007. Since 2007, over 4,000 Lowe's employees have become Rebuilding Together volunteers. Additionally, Lowe's has provided over $8,500,000 in grants to Rebuilding Together affiliates, with this funding:
• Over 1,500 projects have been completed
• Over 15,000 people have been served
• Over $23,000,000 in market value created